EasterNow
Experience the events of Passion Week in real time.
EasterNow provides step-by-step notification of Easter events and locations from Palm Sunday until Easter Morning.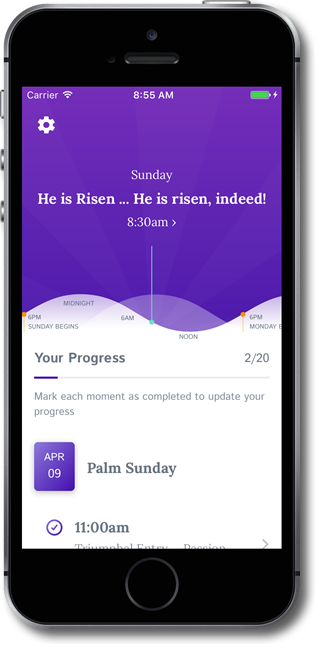 "They found the stone rolled away from the tomb, but when they entered,
they did not find the body of the Lord Jesus."

– Luke 24:2-3
About EasterNow
Gregory Love and Kimberlee Norris are husband and wife, child sexual abuse attorneys, and the founders and Directors of MinistrySafe, created to help ministries meet legal standards of care and reduce the risk of child sexual abuse in ministry programs.
Learn more about MinistrySafe.
In addition to a busy law practice, Gregory and Kimberlee have ministered to students at Christ Chapel Bible Church in Fort Worth, Texas since 1995. In 1999, Greg began sending text messages to his small group of students, walking them through the events of Passion Week to illustrate each event's seamless connection to Old Testament prophecy.
The response was profound.
In the years that followed, new groups of students were added to a growing list of recipients – who forwarded the texts to others. In 2016, over 15,000 individuals received these messages in 'real time', following Jesus through His last week on earth.
It became clear that the experience was impactful … but texting hundreds of people was unsustainable. Technology came to the rescue, and EasterNow was born: an APP utilizing any smartphone's internal notification system to walk through Passion Week with an integrated map, scripture, and deeper analysis.
EasterNow is FREE … brought to you by MinistrySafe. Download the APP and join thousands of others experiencing Easter Week in a unique and extraordinary manner.
Special Thanks
Over the years, several friends encouraged us to pursue this dream. To this handful of friends, thank you!
Hal & Camille Brown
Jim & Jackie Snyder
Robby & Renee Kyser
Cameron & Angela Crum
Bill & Laurie Egner
Chris & Danielle Voss
Mark Huebel